We got up a smidgen earlier this morning in hopes of getting into our stands with more darkness than light. The wind was howling as we piled out of the truck at our respective hunting locations. I chose my tripod, which is the first stand we come to on the road to the back of the property. As I approached my stand, I could hear animals moving away from me. I never heard snorts, indicating whitetail, but I did notice feces that resembled that of deer. From my tripod, I saw a doe and a yearling ease down a hillside to my west, about 200 yards away.
Les chose to hunt Glenn's tripod, which is positioned in a large oak tree on top of the plateau we've been hunting. The only activity he saw was a "light colored animal", crossing the valley a long way from his location.
Glenn set up in his ICE Blind and was fortunate enough to see a few deer that were out of range.
Steve headed to his Non-Typical located in a big oak tree. As he approached his stand, he noticed a lot of hog droppings where his corn once laid. He made his way into his stand, and situated his gear for the morning sit. Not more than two minutes after he got on stand, he had does feeding in his shooting lanes. At 6:20, he attempted to draw, but let down, feeling it was too early to shoot. He waited until he had enough light, and luckily, the deer waited as well. With the deer plainly visible in his lane, Steve let an arrow fly. Steve's Goldtip arrow, tipped with a Rocky Revolution mechanical broadhead hit the deer quartering away. After following a blood trail, that only a mechanical head can create, Steve found his monster doe 60 yards away. The subsequent forensic investigation of the animal's body revealed that the Rocky Revolution had crashed through the ribcage, severing the heart and one lung.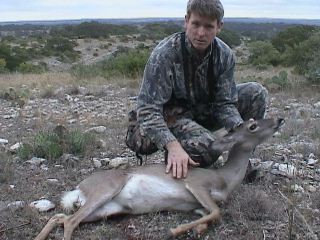 We all headed into town for lunch and ice. After making short work of a burger at the King Burger, we headed back to the property for a siesta and the afternoon hunt. Before heading to our stands, we had the park manager take us to the Sinkhole, so we could snap a few pictures. It is a pretty impressive cavern and the smell of bat guana is prevalant. Below is a picture of Glenn and the manager, Mike, overlooking the Sinkhole.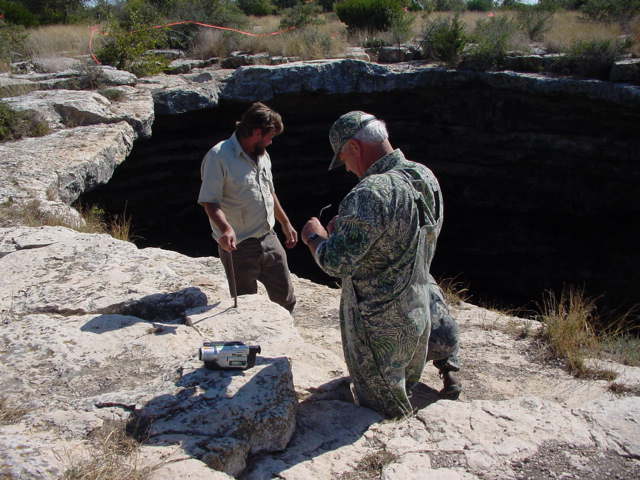 For the evening hunt, Steve and I set up in his tree, placing my swivel limb out on a large limb, about 10 feet from Steve's stand. We braved the heavy winds, only getting sight of two deer crossing to our east at 50 yards.
Glenn sat in his ICE Blind again, getting to see a doe and a small six point at a distance.
Les opted to take a hike down into the canyon, to find a shady spot to watch and wait for deer. He saw two doe and two yearlings, well out of range.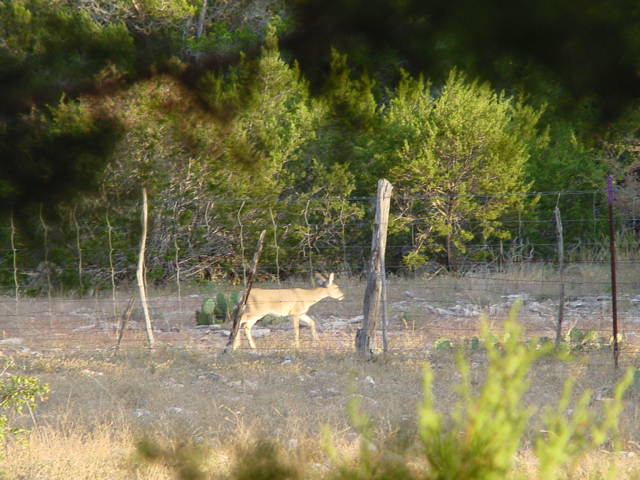 Every evening, during the drive home from the Sinkhole, it's like a safari. We see tons of blackbuck, fallow and axis. On Mr. McCarson's ranch, we've seen some monster axis. He's wanting to get some bowhunter's in on his place to start taking them out. He's got some that are well over 30". We'll be passing on the information for his hunts when we get back. Here's a picture that we got tonight of a "medium" sized axis: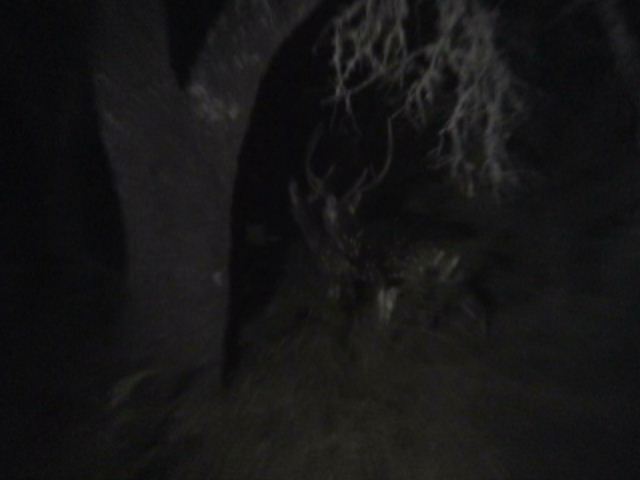 This has been a great hunt. As of this update, we know of seven deer that have been taken. There are seventeen hunters on this hunt, so the success rate thus far is impressive.
The park manager, Mike, asked me to send him video of the man that was doing the shooting yesterday on the other side of the fence. I gladly told him I would. He figures the man, O.D. was probably hunting, and they're planning on sending a game warden over to visit with him. That was good to hear!
Stayed tuned for tomorrow's hunt as Steve and I are headed back to the oak tree for a tandem assault on our unsuspecting prey. Les is unsure if he'll head over with us to hunt and Glenn has decided to just sleep in, hunt axis here at the McCarson Ranch and then head to his lease near Uvalde for the weekend.