The trip down was an uneventful as desired. We did manage to time our arrival quite nicely with Steve's. After a few synchronization phone calls with Steve, we met him at the intersection of 83 and 41. He beat us there by about four minutes. How is that for timing? We deemed this as an indication of how smoothly things would go this week.
At Bob McCarson's ranch, we unloaded the trucks and then relaxed around Bob's outdoor fireplace. After some excellent ribeyes and baked 'taters, we settled down for some storytelling. While enjoying the fire, we watch dozen's of deer and fallow frequenting his well lit feeder behind the house. This only fueled our hunting fires.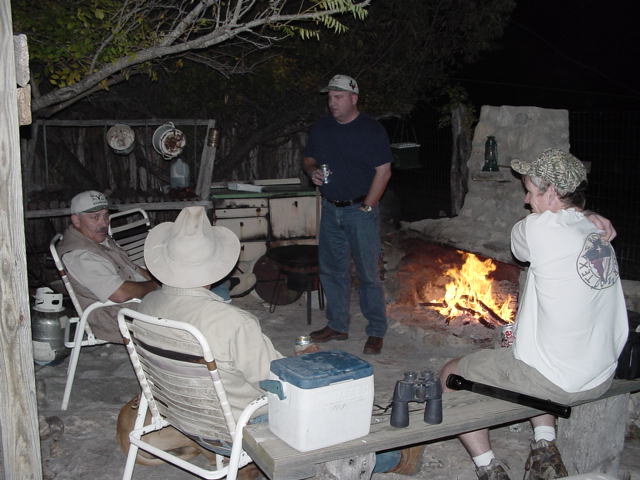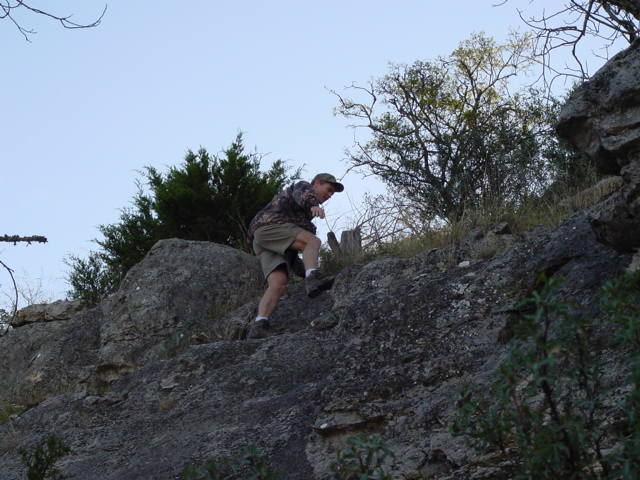 After getting early at the ranch and taking a brief stroll around it to see the blackbuck, axis, fallow and whitetail, we showered and headed for the Sinkhole. Once there, we filled out the appropriate forms and got Steve in on standby. There are 17 hunters including ourselves that are on this hunt. We all chose up sides and were then shown our hunting areas. Our group decided to take the southernmost point of the property. We made our way to our area and began scouting.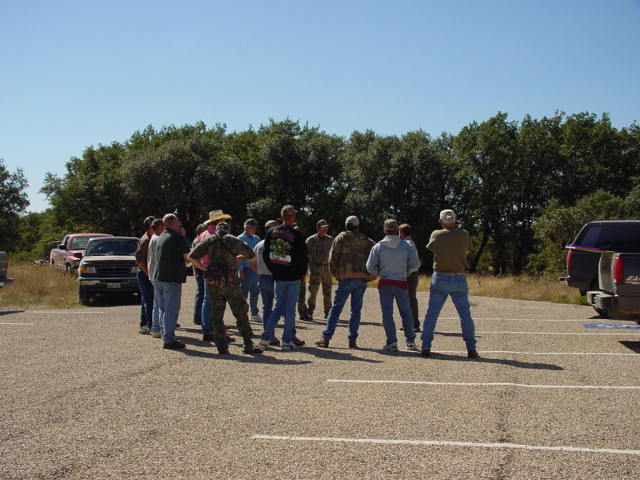 Steve and quickly located a rub and a scrape as we ventured into the bowels of the property. Shortly thereafter, we watched a small buck make his way through one of the draws. Our confidence soared. We made our way around the property, marking potential stand sites and planning our attack. We made our way back to the trucks where we met up with Les. Les and I set out my tripod over looking a valley on one side of a nice saddle in the topography. We then made our way down the road where Glenn had set up two different stands. He was ready to go. Steve had staked out a beautiful oak tree and was making preparations to hang his non-typical lock-on. Les and I stumbled around further and then decided it was time to get things set for the afternoon hunt. He located a spot for a swivel limb and decided to carry what he needed out with him when he went to hunt. We all changed into our hunting clothes and split up for the evening's hunt.
I sat through most of the evening without seeing anything. At around 6:00, I looked over my shoulder to see a very small doe making her way towards me. At 15 yards, she stopped giving me a perfect shot opportunity. I reached for the camera and filmed her and then let her make her way around me. This deer was quite small, and I felt it best to pass on her.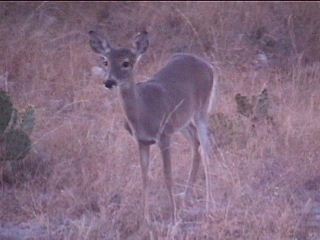 Glenn reported that he had 2 nice doe make their way to his stand, but due to his position, he was unable to get a shot. They moved away unscathed.
Steve had a doe and a spike in front of him that he was able to videotape. He had watched the deer for a while when he decided to swing his camera into a position that would allow the camera a view of one of his tight shooting lanes. As he was watching the spike and doe in front of him, he noticed something dart into the window on which his camera was focused. A small buck nubbing buck had made his way into the lane where Steve's camera was focused. The interesting footage revealed that the camera was still on full zoom as the deer's rump was all that was visible in the viewfinder. The spot that the deer was standing was one at which Steve had placed some "Hog Wild". While Steve attempted to get into position for a shot, the doe he had been watching made it's way to the Hog Wild and "pushed" the buck out of the way. Steve was unable to get a shot at any of the animals, but he did enjoy the show!
Les said that he had a doe and yearling come by his stand. The doe was making her way into his shooting lane as he prepared to make the shot. At full draw, Les waited for the deer to fill the hole in the tree. The deer held up in the wrong spot, forcing Les to let down. The doe then moved again, putting some more distance between herself and Les' tree. When the deer reached a spot that Les still doesn't have any idea of the distance, he was able to get drawn and he took his shot! Unfortunately, he watched as the arrow sailed harmlessly under the deer!
We were all pleased that we had deer in range. Back at the check station, one fellow had arrowed a spike and he mentioned that someone else had gotten a doe. This sure feels like it is going to be a good week!