Given our level of exhaustion, and the number of axis on Mr. McCarson's ranch, we decided to sleep in, and hunt his property for axis doe.
We paired into two teams. Les and Glenn would head west from camp, and Steve and I would head north to the front gate. Each respective team stalked their prey. Axis are very wary animals. Steve and I saw several, including a nice buck. On a couple of occasions, we were able to close the gap to about 60 yards, only to get busted by the intensely aware animals. Steve and I were never "barked" at, but Glenn and Les got video of a group giving them the yelp treatment. Over and over the animals would bark as Glenn and Les were pinned by the lead animals. They, like us, got to within about 60 yards, only to watch the animals disappear. It was a great morning, regardless of the outcome of our hunts!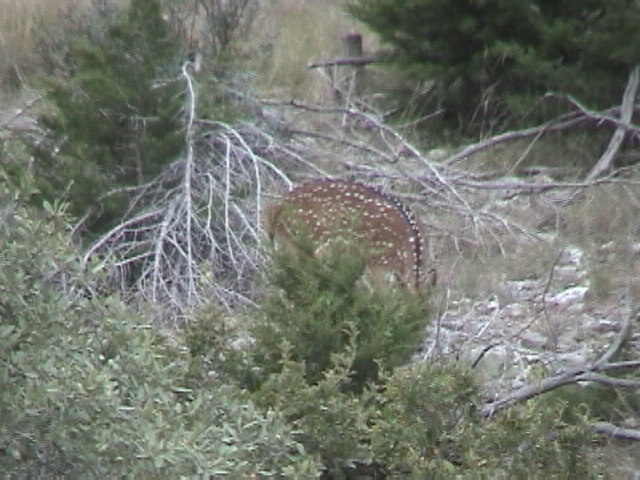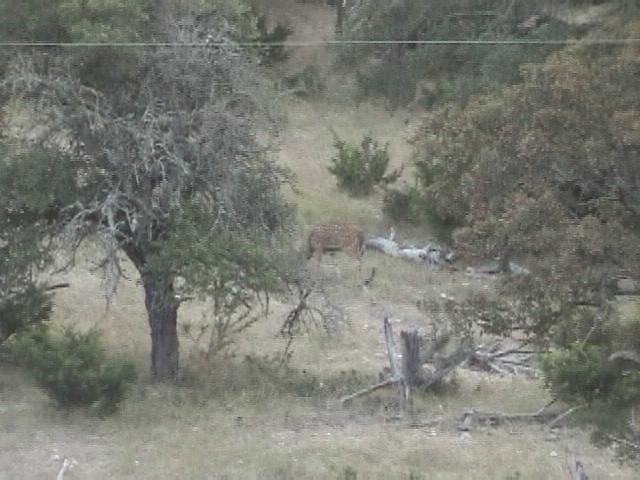 This has been an exciting and exhausting week. Rising at 4:00 a.m. and hunting hard all day in the hilly terrain of Devil's Sinkhole hammered the four of us. We shared some great stories, great hunts and incredible success on our trip. Steve, Les and Glenn are a blast to hunt with and Mr. McCarson is an excellent host. Hunting all day and returning to one of his superb meals really gave us the boost we needed! It was well beyond the expectations we had when we were invited to stay with him. Thank you very much, Bob!
For those of you who don't think there are affordable opportunities for hunting, you're just not looking hard enough. Steve did not get drawn for this hunt, or any other hunt, but was able to "walk on" and nail a doe. There were five standby positions available and Steve was the only one there to capitalize. This was a five day hunt, if you maxed it out, and it cost each of us $100. We all saw plenty of game and the opportunities are there. As of noon today, 17 hunters had bagged 10 animals, all with archery equipment!
Below is our group. Seated (from Left to Right): Steve "Legdog" Leggett, Casey Morris, Les "Texas Turkey" Tompkins. Standing (Left to Right): Bob McCarson, Glenn Lemke.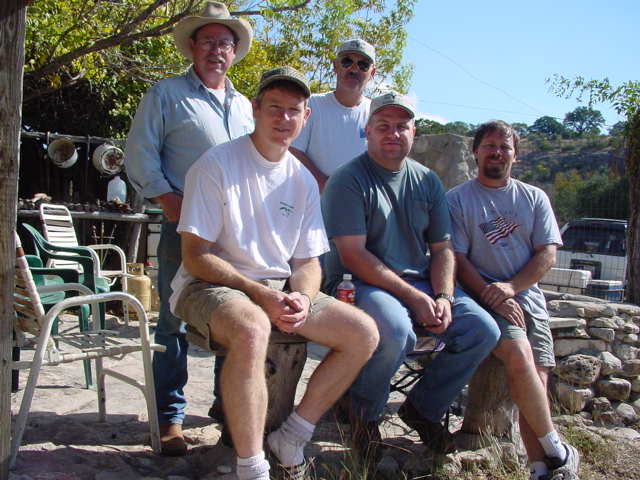 Thanks for following along. I hope we were able to entertain you with our updates. I promise that each of you would have had much more fun on this hunt, had you been with us!! What a great week!