We scurried to our stands, cutting it close with the arrival of daylight. I settled into my tripod where last night I had seen the yearling. Glenn chose his ICE Blind, Les climbed in another ICE Blind I had positioned next to the road while Steve climbed the oak tree where his Non-Typical is hung. We were all set as the sun rose on a gorgeous hill country morning.
As the hillsides at my spot began to light up, I noticed two does and a yearling heading towards me from the other side of the draw. I watched them travel about 200 yards before they disappeared in the bed of the draw. These were the only deer I saw this morning.
Steve had several deer feed in front of him for most of the morning, including the same doe and spike he saw last night. He never had any deer get close.
Glenn watched a small spike make his way towards Les' stand at about 7:15. He also had 5 doe cross the ridge in front of him, 30 yards out of range.
Les sat quietly, not seeing anything until about 7:40, when the spike Glenn had seen appeared to the west of his stand. He sprang into action, working his way into position for a shot from his knees. Leaning to his right, and in an awkward position, he let the arrow go. Les reported that he saw the arrow disappear, and felt certain that arrow met it's mark. He sat for 30 minutes before attempting to blood-trail his trophy. During the 30 minute period, I called Les on the radio and he informed me of his good fortune. I told him I'd get there as soon as I could, to help with the tracking.
As I arrived at Les' stand, I found him standing over the point of impact. Several good sized blood drops started the blood trail for us. We followed the trail as it became Manson-esque. After following it about 20 yards, our jaws dropped slack and agape in utter awe and amazement. Les looked up, just off the edge of the ridge and spotted the deer! This buck traveled about 30 yards from the spot at which he was shot. We searched and found the arrow further down the ridge. The arrow had traveled about 20 yards further than the deer.
Inspecting the animal revealed an absolute perfect shot. The entrance wound was tucked behind the right front leg of the animal. With surgical precision, Les had threaded the arrow perfectly behind the right leg and it exited in front of the opposite leg. With wounds that only a Rocket Steelhead mechanical broadhead can inflict, the deer's struggle ended quickly. Les' whisper quiet, deadly accurate Hoyt Havoc performed flawlessly! Below is Les with his buck. It's important to note, that this deer ends an 18 year bowhunting drought for Mr. Tompkins. He just recently rejoined the ranks of bowhunters, and this shot solidifies him among the elite!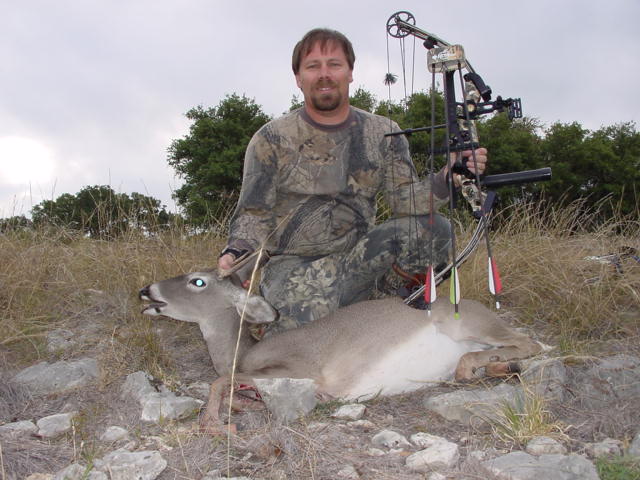 The afternoon found Les and Glenn retreating shamelessly to the comforts of a Rocksprings cafe. Les needed to ice his trophy and several provisions needed procuring. During their absence, Steve and I relocated two stands and then began our marathon afternoon ICE Blind extravaganza. Taking to our stands at approximately 11:30, be settled in for our vigil. After thoroughly checking our eyelids for light leaks, we both got serious about the hunt.
Les and Glenn made it back to the area around 3:00. I spoke briefly with Les on the radio as he spelled out his and Glenn's afternoon plans. Les had opted to give the lucky ICE Blind one more shot. Glenn strolled down into the valley to sit in his Sling Seat.
I sat without seeing anything, other than the neighboring landowner. This psychopath had arrived in my area on his four-wheeler, and was quickly off, strolling with his dog, handgun and rifle. He made several loops around the place, reappearing to my right and then working his way down the fenceline to my left. As he walked the fence, he checked the wiring at every post and searched the ground for what I was certain were human tracks. I was under the impression, after he noticed my blind, that he was hoping to find evidence of our trespassing on his property. As it got dark, I noticed him stalking erratically towards the area where I believe he had a feeder. He disappeared into the cedars as I continued searching for deer. When it had gotten too dark to see, I gathered my stuff and began to exit the blind. As I crawled out, I noticed two dark objects on the other side of the boundary gate. I looked through my binoculars to verify that the animals were whitetails. They snorted and moved away. Just as I turned to head down the road, I heard the tell-tale sound of a shell being chambered by a hallucinogenic moron. In an instant, the landowner fired off three rounds in the direction of the deer. I was certain he was firing at me as every pore and orifice in my body slammed shut in reaction. Of course, it's not deer season, so the Parks and Wildlife Manager was very interested in my tale. He said he would call the appropriate people about the incident. Needless to say, we went back to retrieve the ICE Blind, vowing that our hunt in that proximity was over.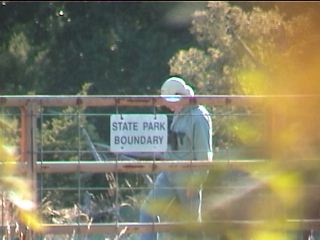 Steve, whose stand is within 200 yards of mine, also saw the landowner on several occasions as the goober made his way around his property. Other than these sightings, Steve was blanked on the evening.
Les was blanked as well.
Glenn reported seeing several deer including a buck with a 16"+ rack. None of the animals moving around him came close enough for a shot.
We're hoping to follow Les' lead tomorrow.