The first order of business after arriving at the 5 Star ranch was to find the microwave phone to test the line to see if we'd be able to establish an internet connection to do an update. We had already determined that our cell phone dial up connectivity kit only worked in digital service areas and not using the analog reception that we were able to get at the ranch. After multiple attempts, I was finally able to log on at a blazing 4800 bps! That might be enough to do text updates with a few pictures, but the bigger problem was that at that speed, it is difficult to maintain the connection. After a couple of minutes online, we got booted off before we could even get logged onto the web server.
That out of the way, we decided to focus on hunting! Our guide, Trey, showed us a very roughly drawn map of the ranch, and we divided up into groups in different areas to set stands for the evening hunt. Glenn, Ed and I chose a location that was several miles from the main ranch. The terrain was rockier and consisted of more dense brush than the majority of the ranch. Glenn set up his tripod near a corn feeder, and then I set my Brush Country camo'd ICE Blind in a pretty good looking spot near a small creek that must feed into the Rio Grande a mile or so away. We spent a couple of hours looking for a good spot for Ed, before finally returning a few hundred yards away from my setup on the creek, where the creek dried up a bit, creating a great spot for the hogs to wallow. Ed set up his Doghouse tent blind on a bluff overlooking the creek bed nearly 15 feet above. The creek bed was full of tracks, including one set that was created by a monster of a boar!
We returned to camp for a quick shower before heading back out just before dark for the evening hunt. We got out later than we had planned, just a half hour before sundown, but as I was walking out, I received a call on my cell phone (it's got the vibrating ring feature). It was Casey, and he informed me that he had already arrowed a hog! While walking to his tripod, he spotted a group of about ten hogs feeding in the area. He stalked to just behind his tripod, picked an eater-sized sow from the group, and after waiting for a broadside shot opportunity, fired a perfect 20 yard shot into and through the hog! He decided to get Les to assist with the tracking, and together they made short work of the tracking job.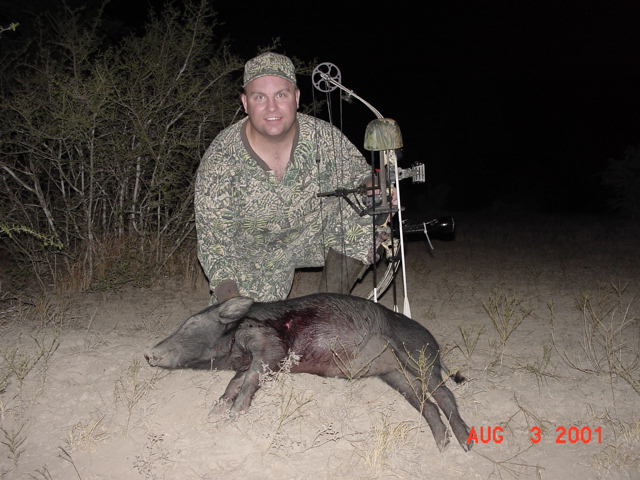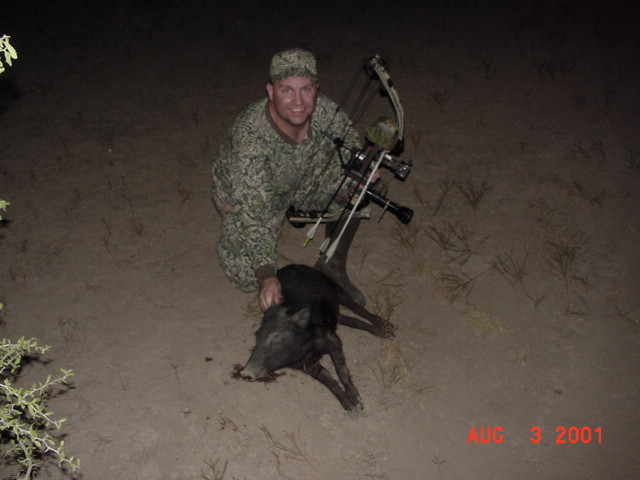 Meanwhile, the rest of the group was more or less blanked up through the early part of the night. Glenn, Ed and I hunted our respective locations until around midnight before returning. All of the other hunters, with the exception of Steve and Ben, had returned to camp. Robert, who had arrived later than the majority of the group, was just getting ready to head out to hunt the rest of the night. Ben and Steve came in, briefly, shortly after we got back to camp. Glenn and I decided to ride out with Robert as he made his way to his blind. We corned the couple mile road leading to his ICE Blind. He dropped us off in the road and then headed to his lookout. Glenn and I waited on the road for a half hour, or so, before beginning our slow walk back toward camp, still hunting the road in the moonlit night. Unfortunately, we arrived back at camp without spotting any wildlife.