2002 Charity Hunt!
Recently, Michael and I were discussing a way in which we could get some "disadvantaged" hunters out into the woods. We weren't considering the type of outdoorsman with which most people associate the moniker "disadvantaged". Our plans called for getting a few fellows out that we were certain one would never see posed behind a freshly killed animal. With virtually no thought involved, we decided that Rudey, Devin and Saltfork (Larry Hill) were our subjects. It's fairly evident that these fellows are as unskilled at hunting as they are in picking hunting spots!
As the dates were settled and plans made, the excitement escalated. A few days before our scheduled departure, Michael decided that it would be a good idea to call in another hunter who was fairly adept at videotaping. Steven "Legdog" Leggett was invited and he gladly accepted. The hunt and hunters were ready.
Steven "Legdog" recalls:
"I'm sitting home minding my own business when the phone rings. I didn't recognize the number on the display but the area code looked familiar. Feeling brave, I answered it. If any of you have ever tried to reach me by Ma Bell, you would know I never answer the phone. Imagine my surprise when I recognized "Mr. TexasBowhunter.com's" voice on the other end of the line. Seems Michael's brother Martin wanted to meet me in order to make a cotton seed connection. Who knows, that ranch may pick a bale to the acre by this time next year!
The war chest was freshly stowed from my recent Mexico trip so GadgetDawg was at the top of his game. Clearing a few last minute hurdles, I loaded up, pointed the 4Runner north, and executed a successful rendezvous with Larry, Moe, and Curly of TBH Charity fame. Larry squeezed his rather tall frame into the 4Runner while Devin and Rudey jumped into Devin's truck. We headed south with fresh batteries and the kitchen sink in true Legdog style.
I like driving across Texas with the anticipation of a good tree stand on the other end of the road. However, driving with Saltfork was like driving with a man who had just been let out of prison. Larry (AKA Saltfork, Skipshot, and "A" Man) was beyond ready. He vacillated between carefully planned hunting fantasies and verbal shots to Devin and Rudey on the Talk About radio for the entire ride down usually boring IH 35."
Thursday rolled around and caught Michael and I in a bind to leave on schedule. With his work taking him east to Lousiana that day and my work locking me into the Galleria area of Houston, our departure was delayed a full 2 hours. At 7:00 p.m., we pulled out of the Lake Houston area. We shouldered our load for the five-plus hour drive to Cotulla, Texas.
The "hunters" had assembled in the DFW area around 5:00 p.m., pointing their vehicles towards Mexico making haste for their destination. In addition to the entourage from the DFW area, Michael's brother, Martin, also made the trek south. The Metroplex Quartet and Martin arrived in Cotulla an hour or so before Michael and I. We arrived at the Cotulla Motel to find the crew huddled in a motel room, giddy with excitement.
Steven Leggett's play-by-play of the events that transpired during the initial meeting:
"When we finally caught up with the senior pro staff in South Texas, everybody had the now familiar stupid grin on their face as long time Internet friends finally got to shake each other's hands. Devin presented Casey with the now infamous pink floral bow press and the hunt was truly on. We quickly jumped back in to our vehicles and made a late night gear/gadget drop off at the recently re-named Morris-Middleton Ranch. I was very impressed with the ensuing calf scramble as we unloaded the better part of a Cabela's catalogue into the Middleton barn, and scurried back to our respective bunks for a quick pre hunt nap."
Before making our way back to the motel, I presented each of the hunters with their very own hand-made corn sack. My wife had fashioned the versatile bags from camouflage material using a sturdy drawstring for closing. However, given the pre-disposed information about the color of my bowpress, my wife and I had altered the plan's for Devin's bag somewhat. A quick trip through the material/sewing section at Wal-Mart produced a yard of Barbie material from which my wife made one of the prettiest corn sacks ever as a gift for Mr. Smith. He was ecstatic!!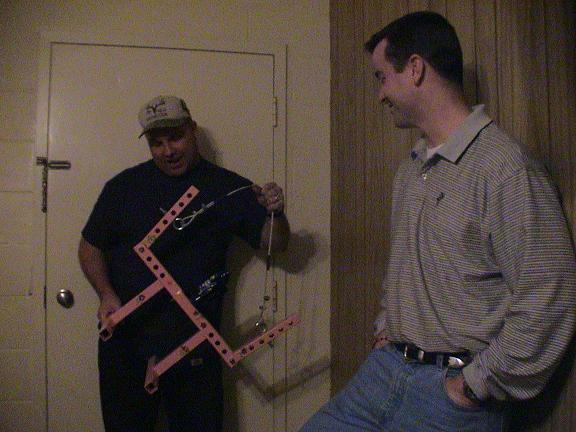 The infamous pink bowpress!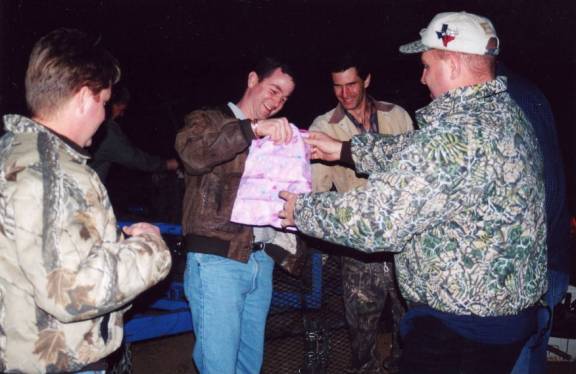 Sweet Revenge!
We made it back to the motel safely, planned our morning hunt and then drifted off to sleepy-town. It was approximately 2:00 a.m.
I will relate the events that Larry and I had witnessed and will quote the information from the other "hunter's" experiences.
---
Friday Morning:
Larry "Saltfork" and Casey

Larry and I lumbered to our pre-determined location just as the sky started it's fade to pink. We had settled on hunting Michael's Brush Country Camouflage ICE Blind overlooking a feeder in the north forty. The north forty is forty acres of some of the most God-forsaken country on the planet. The impenetrable mass of cactus, mesquite and huisache makes this a haven for game. However, Larry and I sat patiently, seeing nothing but cardinals and dove for the entire morning. After exiting our stand, we made our way around the north end of the ranch. As we approached the barn, we saw approximately 12 deer, mostly does and yearling, feeding just north of the camp. It was a little aggravating, but promising nonetheless.
Martin

Martin spent the morning hunting "The Point", which consists of a swivel limb in a large mesquite overlooking a feeder at a funnel-point in the brush. By 7:30 Friday morning, there was blood all over the area. Martin had released a total of three arrows and had two hogs hit. One had expired within site while the other made his way back to the brush. An intensive search by the entire group later in the morning produced a couple of sightings of the still mobile hog, trucking through the South Texas brush. This hog was never found.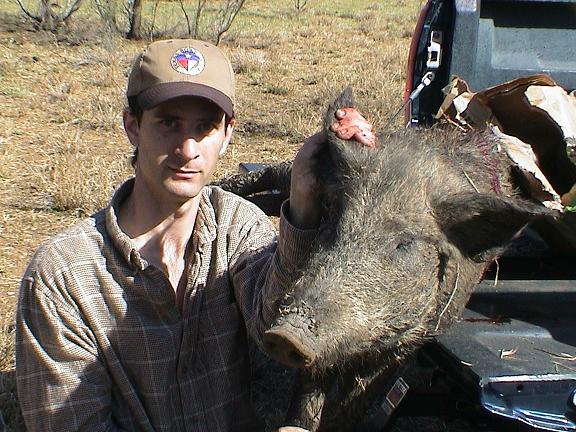 ---
Devin

Devin hunted a ladderstand positioned in a group of large live-oaks just north of the point. Being with about 80 yards of the point, Devin was able to witness the carnage that surrounded Martin. Devin reports: "I saw one big hog at about 7 am. I watched and heard the slaughter at the point (Martin) from 100 yards away the rest of the morning."
Steven "Legdog" and Michael


"Springing up from my not so comfortable spot on the hotel floor without the aid of an alarm clock, Legdog was ready to get on stand. I thought I was going to have to get a come-a-long to get Larry out of bed who had obviously burned all his energy on the trip down. It wasn't long before he was officially handcuffed to Casey who would serve as his personal guide and mentor for the rest of the journey.
I felt blessed to be accompanied by Mr. TexasBowhunter.com himself. We finally got to a huge oak with a combo swivel limb and woodsy. The stand is on a cactus flat that that borders a dry creek bed. At first light I could see deer all over the cactus flat but they seemed content to stay well out of the range of my arsenal. About mid morning a good-sized family of hogs decided to parade across the cactus flat at about 100 yards. Michael got them on video while I marveled at the video skill of the infamous "two bow bucks in one day on video" King. I spent the rest of my hunt in that awesome tree."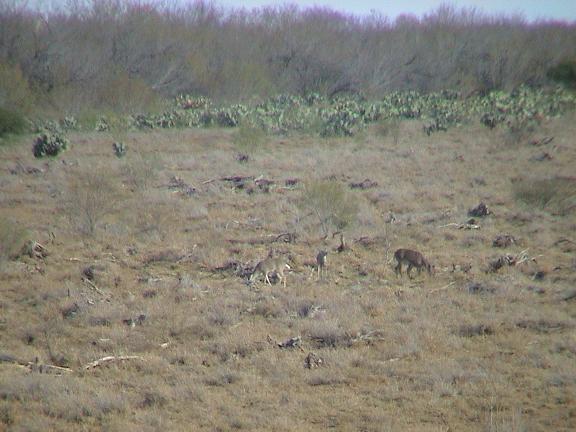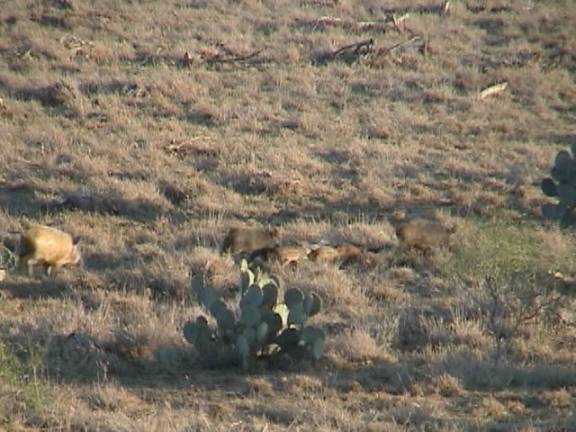 ---
Rudey

"I was facing the feeder as it was slowly getting light enough to see. I was bracing myself for the inevitable "STARTLE" that comes when the feeder starts slinging. I almost fall out of the stand when that happens, even when I know it's coming. But before the feeder could go off, I started hearing some other noises to my right. I listened more intently, and the noises kept getting closer. HOGS!! I'd know that sound anywhere. For those of you who haven't heard hogs, they sound a lot like Casey at a $4.99 smorgasbord. But I digress.
The hogs came in, about 10-12 of them, from my right down the same road I had walked in on in the darkness. I reached for my Mathews FX and readied myself for the hogs to hit the feeder. Guess what? They didn't.
They turned left, came through the old fence line where I was sitting, and started rooting in a hole where the feeder once stood. They were behind me. "No prob", I thought, as I slowly rotated the chair of the Woodsey II stand to face the hogs. They got a little nervous and froze as I was turning, but they quickly forgot about it and went back to their rooting. I slowly began to draw my bow, and just as I reached full draw I noticed something. The video camera bracket attached to the tree was dead even with, and only about 6 inches from, the lower limb of my bow. If I hadn't noticed this and went ahead and released, there's no telling what could've happened. The lower limb would have hit the solid steel bracket. I figured that would make too much noise, as the camera bracket wasn't equipped with Limb Savers. So my only choice was to stand in order to give the limb room to clear the bracket.
Now, have any of you ever tried to stand up in a stand that is only about 12 feet off the ground, when their are 12 or so hogs only about 10 yards from you?
Hogs went EVERYWHERE!!!!
As they ran off, I noticed a much larger spotted hog about 50 yards away join them in their exit.
"Well, that was fun!!" I thought as I turned back around and hung my bow up, "We're off to a good start!!"
Another hour or so passed with nothing moving near me except for cows about 50 yards out in front of me. Then someone out on the highway started honking their horn over and over. I guess that's how the rancher feeds his cows, because when the horn started blowing, those cows came to life. With a moo-moo here and a moo-moo there, those cows gathered and started bounding through the brush back toward where I parked the truck. That's when I noticed all the deer bounding in front of them. There must have been 10 or so deer spooked out of the brush when the cows thought they were going to feed. But they all bounded harmlessly away from me, never to be seen again.
About thirty minutes later, I caught movement in the brush about 30 yards in front of me. I stared at the brush, but could discern nothing. Just as I was about to raise my binoculars to get a closer look, a spike moved out of the brush, moving closer to me and to my right. Since spikes were legal game, I again reached for the Mathews. The buck moved to within 20 yards of me, but never into a shooting lane. I watched him wander on down the road that I came in on. But before he was completely out of sight, there was more movement in the brush to me left. It was another spike coming out in almost exactly the same spot as the last one. And, I'm sorry to say, he followed the same trail, never moving into a shooting lane.
I hung my bow back up, and waited out the rest of the morning with nothing but cardinals and green jays to keep me company.
Oh, and by the way, the feeder never went off. In a way I'm glad it didn't. I'd forgotten about it by then, and would probably have soiled my cottons."
---