Welcome to the first TexasBowhunter.com Live Hunt of the 2000-2001 hunting season! We had some great hunts in 1999, and fully expect to exceed those standards this season! Thanks for joining us on the first, of what should be many, exciting hunts. We appreciate the opportunity to share them with you!
Opening weekend of the 2000 season finds us in the Piney Woods of East Texas, on a small lease near Center. I will be joining TexasBowhunter.com pro-staffer, Glenn Lemke, and my cousin Clay Parker on the 240 acre property just North of Center, TX.
Glenn and Clay have spent several weekends scouting the property for deer sign, and have located several promising hunting areas, with good, fresh sign. The property has not been hunted for over 10 years. Our primary objective is to get some fresh venison for the freezer, so we will be attempting to shoot at least one doe. Because of the uncertainty of the quality and quantity of bucks in the area, we will be patient, but if a good shot opportunity presents itself, we will probably take advantage of that as well! We will be primarily utilizing ladder stands and climbers during this hunt to get us above the thick cover and allow us to overlook the creek bottoms running through the property.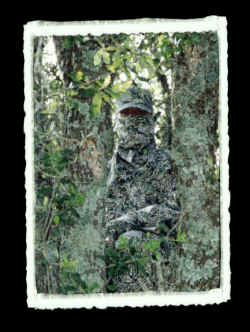 Join us now as we begin the new season. After the hunt, be sure to log onto the Discussion forum to tell us what you think, offer suggestions on hunting strategy, or to ask the hunters a question. You can join the conversation directly by clicking on the "Discussion" graphic to the left!
We are pleased to announce that we have teamed up with Brush Country Camouflage to make Brush Country the Official Camouflage of TexasBowhunter.com! The Brush Country pattern offers a unique combination of mesquite, thorns, cactus and live oak that creates a look that will blend in perfectly with any terrain. You can order Brush Country gear online at www.brushcountrycamo.com. Be sure to tell them that TexasBowhunter.com sent you!